Am/Can Ch Cam-Marlee's Little Rock, CGC
"Arkie"
July 27, 2002 - June 30, 2008
Marlee-Cam's Heart Of Gold X Jan-D-Cam's Crystal Cascade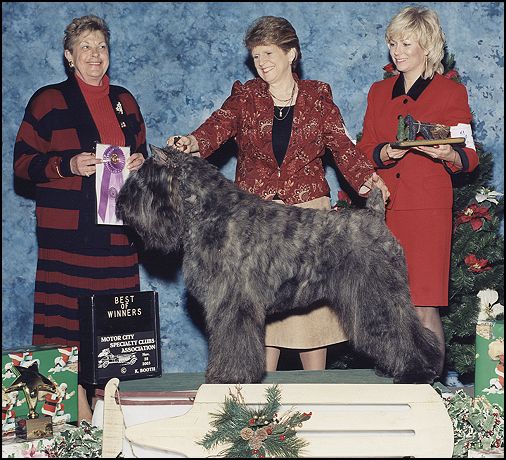 Arkie wins BOW at the BdFC Of SEM Regional Specialty - Judge Diane Anderson
At this show we had Best Of Breed Roadie, Best of Winners Arkie, Reserve Bitch Ruby and Best Puppy Landry
Tears come to my eyes whenever I think of this boy. He was my very special boy. He was a singleton (only puppy in the litter) but he did great things. He was an extremely active boy and very attached to me. He wanted so much to be a good boy but his energy level often interfered. He had such a great attitude - gentle and loving, protective and friendly, very intelligent. He did well in the show ring, even won the Bred-By class at the 2003 National Specialty under Judge Michelle Billings. What a honor to win the Bred-By class at a National.
In February of 2008 Arkie started sneezing. At first it was just once in a while but grew to several times a day and with extreme force. When I took him to our vet tests showed that he had a mass in his nose. Through the next 5 months he went to several vets, all trying to help but no one really doing much. By June we had to put my poor Arkie down because of severe nose bleeds and difficulty with breathing. It absolutely broke my heart. With all the vets on board no one really could do anything that helped. The mass in his nose just continued to grow. There will never be another Arkie. I will always hold him in my heart as my most special Bouvier. I love all my dogs but Arkie was just more special.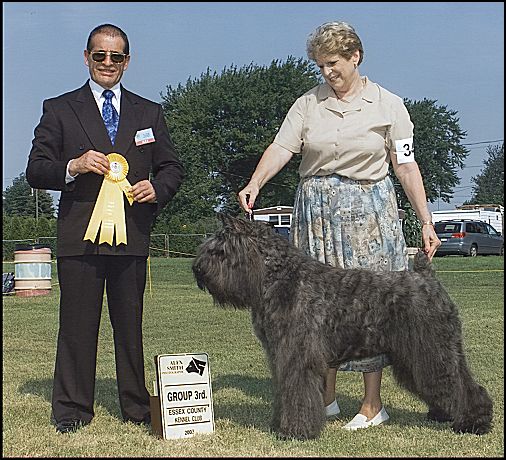 Arkie wins Group 3 in Leamington, Ontario Canada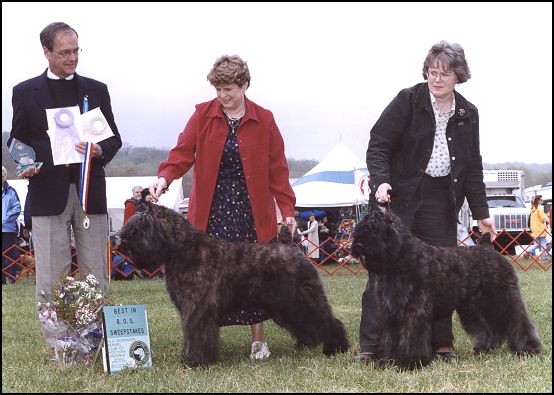 Leesburg, VA - Arkie wins Best in Sweepstakes and Ruby wins Best Of Opposite in Sweepstakes.
In the regular show Arkie wins Winners Dog for a 4 point major and Ruby wins reserve to a 3 point major.
Arkie and Ruby have the same father (Ch Marlee-Cam's Heart Of Gold).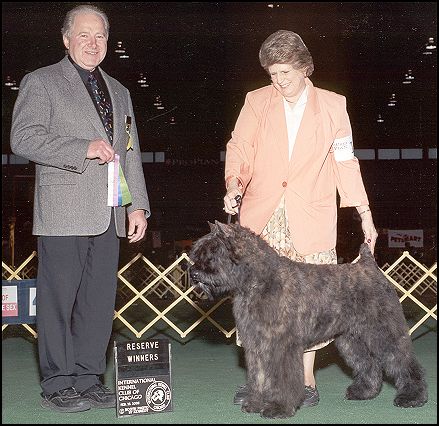 Arkie,6 months old, at his first show
Best Puppy In Breed and Reserve Winners at the International Kennel Club Dog Show in Chicago.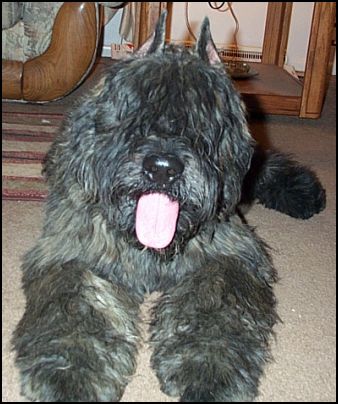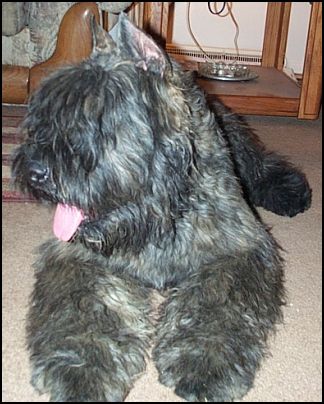 Arkie at 5 months
Puppy Pictures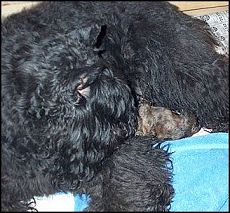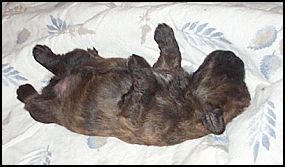 New Born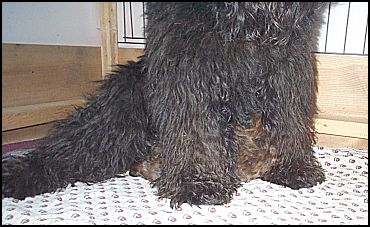 Can you find Arkie?
Arkie being spoiled, Crystal looking on
Such a cute puppy.
I miss my boy!!