Puppies
Click here to read about our breeding program.

We are AKC Breeders of Merit
---------------------------------------------------------------------------------------------
Our Summer Litter
Envy and Ranger
Puppies due in July


CKC CH and AKC Grand Champion Cam's Just Be Jealous At Rana
x
Ch Cam's Ranger At Belbrae, CGC
Click here to see the Envy/Ranger puppy page.
---------------------------------------------------------------------------------------------
Last Year's Litters
Izzy and Derringer
Puppies born June 10, 2016

Cam's Isabella Roze
x
BIS & BISS, AKC Grand Ch, CKC, UKC & International
Ch Cam's Derringer
Click here to see the Izzy/Derringer puppy page.
Envy and Max
Puppies Born April 28, 2015
CKC AKC GCH Cam's Just Be Jealous At Rana
x
AKC CKC UKC Int. CH Cam's Rogue Warrior
Click here to see their puppy page
---------------------------------------------------------------------------------------------
Our Breeding Program
Temperament, health, and breeding to the standard is our focus. Breeding sound Bouviers, both in mind and body, who conform to the AKC Standard is the cornerstone of our breeding program. We are happy to have our dogs shown, but our most important concern is that they have a happy, loving, and forever home. A good temperament is important because we realize that people purchasing a Bouvier from us want their dog to be safe around family and friends.
Our Bouviers are allowed to mature to the age of at least two years old and are Champions of record, or at least pointed, before they are bred. Genetic health checks are done by specialists. We x-ray all our breeding stock, both hips and elbows, and check thyroid. They also have their heart checked by a board certified animal cardiologist and these are registered with OFA, eyes registered with Cerf or OFA. Many of our dogs have been temperament tested through ATTS, receiving their Temperament Test Certificate or their Canine Good Citizenship from the AKC. All breeding stock are given appropriate pre-breeding exams and tests, including brucellosis. All efforts are made to ensure that puppies produced at CAM Kennels are temperamentally sound, conform to the AKC standard for the Bouvier, and are healthy and happy with a good start in socialization.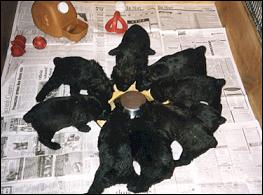 Puppies are sold on a spay/neuter contract with a limited registration and a written health guarantee. We in turn hope that all our puppy buyers will stay in touch with us, calling with questions, concerns and brags. We, after all, have raised, trained, and lived with Bouviers for over 25 years and most likely can answer most questions you may have about the care and training of the Bouvier. We expect our puppy buyers to take good care of their puppies, making them members of their family, feeding them nutritious, high-end, recommended dog food, and giving them regular vet checkups. We also expect our puppy buyers to provide adequate training so that their dog will be a manageable, well-behaved companion and a proud representative of the Bouvier breed.
If you are interested in a puppy from us or want more information about the Bouvier please Email Us.